Embrace the new and control the journey. Introducing the Scandinavian luxury sedan with Google built in.
Be in control every moment with intuitive tech and Google built in.
Best-in-class navigation
With Google Maps fully integrated in the car and hands-free voice control with Google Assistant, real-time traffic info and automatic rerouting let you reach your destination with less hassle.
In-car convenience
With Google Assistant in your Volvo, you can get directions, enjoy entertainment, keep in touch with friends, family and colleagues and fine-tune your cabin environment – all without taking your hands off the wheel. Simply say, "Hey Google" to get started.
Get more done on the road
With Google, you can connect your favourite apps and devices to seamlessly get things done throughout your day. Easily connect to and control compatible smart home devices while in the car for peace of mind and convenience.
Immerse yourself in a premium media and audio experience.
Talk to Google in your S90 sedan for hands-free control. Through a familiar interface, you can enjoy entertainment and keep in touch with friends, family and colleagues – just by using your voice. With access to apps on Google Play and high-end Bowers & Wilkins sound system, you, your car and your life have never been closer.
Google Assistant
Hands-free help in the car.
Bowers & Wilkins
Enjoy a high-end audio performance.
Google Play
Stay connected to your digital life.
Google, Google Play and Google Maps are trademarks of Google LLC. Google is a trademark of Google LLC. Google Assistant is not available in certain languages and countries. Sequences shortened and simulated. Google features are only for 4 years. After 4 years, new terms and conditions apply
Volvo with Google built in
Your Volvo with Google built in is seamlessly integrated for a uniquely helpful, connected, and more streamlined driving experience.
Make it yours.
Discover intuitive comfort and personalised convenience.
Cleaner cabin air
The advanced air cleaner in our world-first air quality system prevents up to 95 per cent of hazardous PM 2.5 particles entering the cabin. This can help you and your passengers enjoy better and healthier air quality, no matter the conditions outside.
A helping hand
Our advanced driver support technology can help keep your car centred in the lane, inform you when it's time to resume driving and even bring the vehicle to a complete stop in the event of an unresponsive driver.
Arrive refreshed
With seat ventilation and ten-point massage for your back, nappa leather front seats make every trip a pleasure and help you reach your destination in great shape.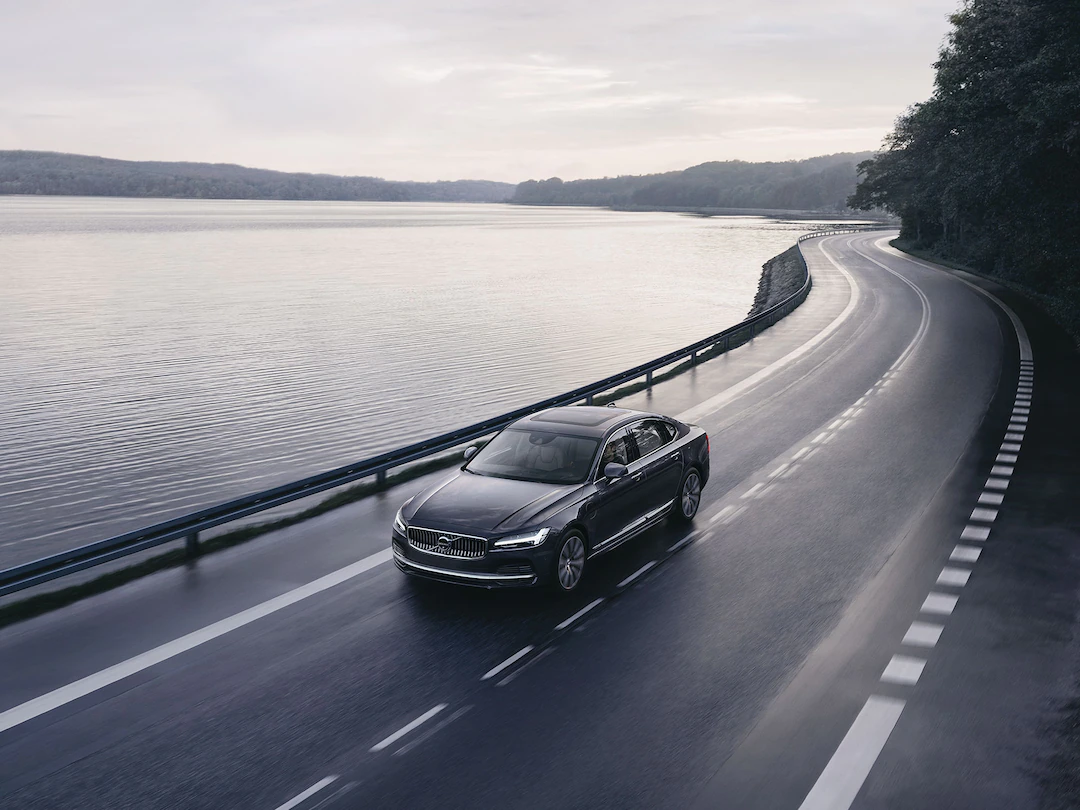 Harness recovered energy.
Our mild hybrids save fuel and reduce tailpipe emissions by recovering energy from the brakes and storing it in a 48V battery.
A refined drive
Enjoy smooth take-offs, refined acceleration and the optimised efficiency and comfort of start/stop technology.
Lower fuel consumption
The integrated starter generator actively supports the engine and reduces fuel consumption while delivering a relaxed and controlled drive.
Assisted safety. It's in our DNA.
Ease stress in busy traffic
Our blind spot information system (BLIS) provides active support when changing lanes. If there is a risk of collision with other vehicles in the adjacent lane, BLIS can subtly adjust steering, helping keep you, your car and your loved ones right where you mean to be.
Avoid Collisions
Day or night, our intelligent safety assistance technology can help you detect and avoid other vehicles, pedestrians, cyclists and large animals. It does this by first warning the driver then autobraking if the driver fails to react.*
Reverse with confidence
Cross traffic alert with autobrake supports the driver when reversing with limited view. The system can detect vehicles crossing behind and if needed, the autobrake can be applied.**
* Vehicles, pedestrians and cyclists moving in the same direction of the car can be detected under certain speeds and in certain conditions. Detection systems are dependent on objects being illuminated and require the vehicle's front and rear lights to be working when it is dark. Driver remains responsible for safe driving at all times.
** Driver support functions are not a substitute for the driver's attention and judgment. Cross traffic alert may have limited functionality in certain situations. Brake intervention is only active at lower speeds.
*** Driver support functions are not a substitute for the driver's attention and judgment. Steering support is active at speeds between 60-140 km/h.
Colours available for S90
Onyx Black
Denim Blue
Bright Silver
Crystal White
Onyx Black
Denim Blue
Bright Silver
Crystal White
Digital services
Our Digital services package conveniently harmonises you, your Volvo and your digital life, making sure you stay connected on the move. Enjoy four years* of Google smarts and Volvo enabling tech including:
– Google Assistant, Google Maps and Google Play
– Volvo Cars app remote services
– All data included
*The S90 is supplied with a four years subscription of the Digital services package. After this period, new terms apply.
What do you want to know about the S90?
Volvo S60
The Scandinavian sedan, designed to take you there.
Features depicted may not be standard or available for all styles and engine options.
Google, Google Play and Google Maps are trademarks of Google LLC.